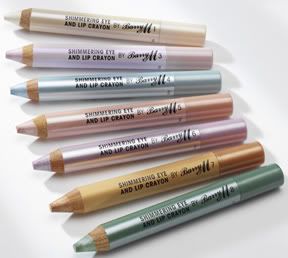 I bought this a while a go after watching Panacea81 on Youtube and I thought I'd give it a go.
Stats
Cost - £4.50
Colour - 1 Gold (1st one at the top of the picture)
Available from Boots, Superdrug and www.barrym.com
First Impressions
When I first saw this, I thought it was just your average everyday chunky eye pencil. It doesn't come in any special packaging but that's fine as it means less waste. There's not really much to say about the look of it except that it's the same colour as the product itself which is something I like about Barry M as it means you can find what you're looking for quite quickly. The product has no smell except for the wood. The only thing I couldn't find written on it or the website was it's weight but that's not really essential. One thing I love about Barry M (besides the fact that they don't test on animals) is they go for simple yet colourful packaging.
The instant plus about this product is that it's multipurpose which saves you money and time which is always great for a gal trying to save on the pennies. It also maneas it's a space saver in your make up bag or traincase
Application and wear
One tip I would recommend with this pencil is warm it up first. I tend to hold it between my thighs (no rude comments please =P ) while I'm applying my foundation so that by the time you get to starting on your eyes, it's softened enough to apply. You don't have to do this but I find it tugs on my eyes a bit if I don't, especially on a cold morning.
My main use for this pencil is an eye base and it does the job pretty well as long as you don't apply too much. It does have a slight stickyness to it once it's applied so it's good at grabbing the eyeshadow and keeping it there. It's not as long wearing as UDPP or Two Faced Eyeshdow Insurance but I get a good 7-8 hours before I notice any creasing which is more than enough for me. It's got the staying power I need and adds a little extra bit of shimmer. The name of it is a little misleading though as it's not really a gold colour, more like a white/champagne colour which is why I picked this one so I could use it with any shadow colour but you could use the other colours as colour bases to bring out the colour of your shadow more and add a bit more depth.
I have to say that I love this on the lips under a gloss. It makes your lips look fuller and shinier. I used this yesterday in conjunction with Benefit's Her Glossiness lipgloss in Your People, My People and it was so pretty. It gave m lips this gold/pink/silver sheen that made my lips look like polished glass. The other added benefit of using this under a gloss is that it'll make your gloss wear longer too. For this reason alone I would buy it again.
This colour also makes a great brow highlight. If you're in a hurry to get out the door and you don't want to faff about with a shadow and a brush, just grab this, put some of the colour under your arch and blend slightly with our finger and voila! you have a pretty subtle gold highlight that will show off your brows nicely
All in all, I would recommend this. If you need a hardcore eeyshadow base then this might not be for you but if you want something easy to highlight your brow or accentuate your lips then this is your baby. You can throw it in your purse and take it anywhere with you and because it's such a fat pencil, it'll last you a while.
My Rating - 4/5